Organize your Bachelorette Party in Bangkok
Wether you're looking for a bachelorette party focused around pampering and relaxation or more into a wild bachelorette night in Bangkok with Sexy Boys and Clubbing, you're in the right place.
Because we often hear that a bachelorette party is all about a good spa day, massages and a few glasses of wine between friends.
But ladies, we're glad to tell you that a bachelorette night in Bangkok have way more potential than that.
And judging by most of the girls we've met and the requests we have, like stag dos, bachelorette nights tend to evolve and we're glad that ladies want to celebrate as hard as guys would for their bachelor party.
Ideas for your Bachelorette Party
Welcome to heaven ! Because in Bangkok, you've got access to everything to can dream about.
Pool Parties, Spas, Nightclubs, Rooftop Bars, High end Clubs, Sexy Shows, huge Shopping Malls, Night Markets, Cruises, KTV... there's no limit to what you can do
Here are a few ideas to add to your program :
Go on a Shopping Spree
Relax at a Spa with your friends
Enjoy a Karaoke night with special surprises
Have a sexy male stripper
Party with hot boys in your hotel room
Enjoy a night out with a sexy male party guide
Attend a Pole Dance class
Visit Bangkok famous night markets
Have a special cake and decoration in your hotel room
...
The only limit is your imagination, and we're here to help you make the most of it.
Pampering in Bangkok is still an option
If you want a spa to chill with your friends, grab a coffee in a unicorn outfit or go to classy bar where you can drink a few glasses of wine in a private room filled with balloons, that sounds great and we'll be happy to help you put it together.
But what if you want to go wild for your bachelorette Night in Bangkok?
What if you want to surprise everyone in the best manner possible and make sure to create a moment the bride is going to remember forever?
Bangkok Male Stripper A Team
We also have skilled team of Hot Boys there to please you.
I'm not talking about a guy that just take off his clothes.
I'm talking about a guy with muscles about to explode, sharp abs and that can move his hips in a way that will make you shiver.
(Now imagine what kind of show 2 of them could do! That's a unique gig you must experience once in your life.)
More about our Male Strippers in Bangkok and Pattaya:
Or maybe the Male Stripper is too overrated or not enough fun and you want more.
In that case why not bring a naked guy covered with sushi or cupcakes and whipped cream?
What about drinking shots directly in the middle of his 6 packs while holding firmly his ass?
I'm sure we're getting closer to what a great bachelorette Night in Bangkok should look like.
Now what about we add a couple of strong arms to take care of the Bachelorette friend's?
A few more guys to party with you, play some fun and naughty games, devoted to treat you like princess to make it a night you'll remember for years.
Go Clubbing with one of our Sexy Male Party Guide
We know how much stress and planning you've been going through, so it's time for the bride and the bridesmaid(s) to relax.
Enjoy a night out in some of the best bars and clubs in Bangkok, guided by one of our sexy boy. Tell them what you like, they'll take care of the rest.
All you have to do is party and enjoy a wild time with your best friends, we make sure you have the time of your life and make it home safely.
For you we open the best tables in the most trendy clubs in Bangkok.
Let us know what music you fancy and we'll be happy to recommend and book the right club for you.
What about a Pole Dance Class?
What about a pole dance private class where you show your skills and share with your friends your sexy tricks.
Pole Dance has become more than an art, it's a real sport now that has gain a lot of attention over the last few years, here's the occasion to learn some new moves.
And if you don't want to get near a pole bar, what about a Striptease class instead?
More about the Striptease and Pole Dance Classes in Bangkok.
https://mojosonsevents.com/pole-dance-striptease-class-bangkok/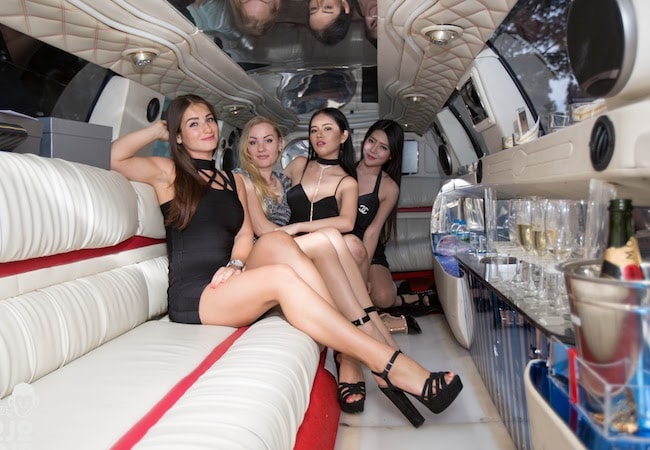 Bachelorette in Pattaya?
Only a few hours from Bangkok, Pattaya offers some great options too.
You can take the whole scene to a private villa with a pool and get those sexy guys to wear tight swimsuits.
You can even watch them diving from the top deck of a yacht while you're sipping cocktails.
Pattaya have the best value for villas and yachts, please ask us for more details.
Ready to be the best Bridesmaid and organize an unforgettable event in Bangkok?
We're at your disposal to help you plan the perfect itinerary and book for you the right activities and Sexy Shows.
Our hot guys are waiting for you.
Let's plan your Bachelorette Party in Bangkok
Please, provide as many details as you can about your event so we can give you precise informations and insights.